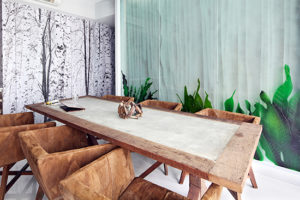 In the buzzing city life, even a second can't be spared for the nitty gritty household chores. Owing to the busy schedule, it would deem as luxury for working parents to be able to dedicate even two valuable hours with kids after day long activities. Maintenance of household is thus deemed as redundant and extra work to their part of time available.For this reason, it is not uncommon to find homemakers requesting for low interior maintenance services but on terms of not compromising the functioning and style of the house. Let's take the example of current project in the gallery where rustic was decided for it's already worn off and torn look after a brainstorming session with the owner.
Here, the 'nature' element was chosen for a refreshed feel over the otherwise subtle mood. It worked in harmony with the reclaimed wood that was used in majority for the furniture. Fuzzy maintenance was not required, and the wear and tear was made a part of the design.
The mushroom granite was picked for its raw, rustic and natural feel. It marked the theme for this interior effortlessly. Distressed leather sofa was nevertheless the choice to enhance the relaxation and enjoyment of watching the TV programs under the boundless sky. Apart from this, all other custom made furniture was sanded down to achieve the rustic look as per the theme.
To soften the overall touch, waterfall like edged glass with water plants made perfect accent for the other end of the wall. It was all about to bring the cooling effect while the diners in the house would enjoy the sumptuous meal. In fact, it was also to intensify the feel of outdoor dining with the water fall like edged glass and reclaimed wood dining set.
Having set the theme, and accordingly the main material, the rest of the house flowed fluently into the design. With living under the boundless sky in mind, the bed of the master bedroom was designed to mimic the hammock hang between 2 trees at the beach, connecting to the leisure and breeze of the seashore. Concrete sand like textured wall further helped to confer that beach touch.
As for the study room, wasn't it a good idea to let the kids study under the shade of a tree?